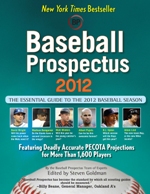 February 2012
Baseball Prospectus 2012
The 17th edition of the New York Times bestselling baseball annual, with essays on all 30 teams, in-depth coverage of over 1600 players, and the top 101 prospects.

I penned two team essays and two teams worth of player comments.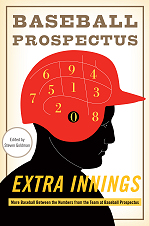 April 2012
Extra Innings: More Baseball Between the Numbers
Sequel to Baseball Prospectus's Baseball Between the Numbers, this book delivers more essays that scrutinize conventional wisdom in baseball.

I penned the chapter entitled "When Does a Hot Start Become Real?"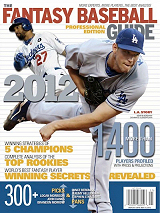 February 2012
The Fantasy Baseball Guide 2012
Annual preseason fantasy baseball magazine published by Ask Rotoman (Peter Kreutzer) and his team of experts.

I penned the article entitled "Playing the Players: The New Game in Town," which discusses Fantasy Squared, an innovative new fantasy game set to launch for the 2012 baseball season and for which I am the COO.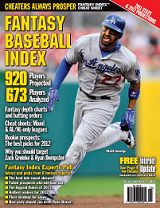 January 2012
Fantasy Baseball
Index 2012
One of the longest-running preseason fantasy baseball magazines.

I wrote 20 teams worth of hitter capsules, depth charts, and batting orders; penned the essays entitled:
"2012 Rookies: Minor League Report,"
"Measuring Scarcity," and
"The Hidden Value of Replacement Level Players";
and participated in the Experts' Poll.